For Sale - Parts and Accessories
To buy an item you can call me or email me your name and address: I will then send you an invoice to your email address for the item plus shipping costs......you can pay by credit card or mail a check. Shipping will be by the most economical method based upon weight and size and insurance: USPS First Class Package ($4.50 & up); USPS Priority Mail ($8.50 & up); or for large & heavy items FedEx Home Delivery/Ground.
DCC Components & Accessories
LGB Locomotive Electrical Connectors, Sockets & Cables
LGB Mogul Locomotive Motor Block Weights
Brand-New LGB Mogul Motor Block Lead Weights for front and rear. These are replacement lead weights custom-crafted from molds based upon the LGB factory-made lead weights. Old Dominion Railways crafted these lead weights after discovering that some of the early LGB 2018D Mogul locomotive's motor blocks had no lead weights from the factory. Adding the lead weights helps to give these Mogul locomotives better traction and operating stability. You must remove the top cover of the motor block to install or remove lead weights from a Mogul's motor block.
​
LGB weights will fit into any LGB Mogul's motor block made by the original LGB company during 1985 - 2006. But if you have the older LGB 2018D motor block without weights installed, you will also need to drill screw holes in the top covers which will secure the weights, or you can replace it with a newer Mogul motor block cover.......the lower cover in the photo is the 2018D; the upper cover is a newer Mogul cover with the factory screw holes for the weights. The lead weights shown have been coated with GB Spray Liquid Tape - Electrical Rubber Formula to protect them from forming lead oxide corrosion.
LGB Mogul Locomotive Lead Weights Set: $30 plus $8.50 USPS Priority Mail Shipping.
LGB DC/DCC Digital Sound Units
LGB 65000 - series DC/DCC Digital Sound Modules
$165
LGB 65011 Power Storage Unit for LGB Sound Modules - Improves Operating Sounds at Slow Speeds using DC/Analog Power
$70
LGB 65001 American Steam Locomotive Module or LGB 65003 American Diesel Locomotive Sound Module. Operates on either DC or DCC power. Comes with either a built-in volume control unit or a plug-in volume control unit. Additional LGB Accessories can be plugged into the unit: LGB 65012 Sound Activation Trigger/Reed Switch to activate the Whistle/Horn and Bell using track magnets; the LGB 65011 Power Storage Unit to power the LGB Sound Module at slow speeds and when stopping.
​
Other LGB Sound Modules are available by special order: European Steam; European Diesel; and European Electric. $155 each
LGB Trains DC/Analog Throttles, Power Supplies & Accessories
LGB/Marklin 60195 Approx. 5 Amps 22 Volts DC Switched Mode Power Supply - Use with LGB 51079 or LGB 51070
5 amp Throttle
Brand New - 2 Year Warranty
$125
LGB 51079 - DC/Analog Throttle-Controller, 5 amps, 0-24 Volts use with LGB/Marklin 60195 DC Power Supply.

For wireless capability, connect LGB 55055/55016/55050 or Massoth Navigator/Receiver.
Brand New - 2 Year Warranty
$175
LGB 51099 18 Volts 1 Amp Starter Set/Small Locomotive Controller
$50
Marklin 66367 18 Volts 1 Amp Power Supply for LGB 51099
$50
LGB 50111 6 Amp AC Power Supply - Use with LGB 51070 or LGB 51079
5 amp Throttle-Controller
1 New $175
Bachmann 44912 Automatic Reverse Loop Module for DCC Use Only - Easy Wiring for Isolated Reverse Loops - Use with any DCC Layout
$65.50
LGB 50160 Track Power Cable
$15
Massoth 8135301 19 Volts 4.7 Amps DC Switching Power Supply - Use for LGB DC/Analog Throttles - $65
​
LGB 10345 Automatic End-to-End Shuttle Controller - Run your locomotive or trolley back and forth on a straight track - Wait time settings - For DC/Analog Use Only
$125
LGB 50140 Black/White 2-Wire Track Power Cable - 14 AWG - 65 Feet Length - $18
I can special order any LGB item in LGB 2020 Catalog - Contact me for a price quote
Delivery time from my LGB Wholesaler is only one week for stocked items
DCC Specialties RRampMeter IV - Measures DC/DCC/AC VOLTS & AMPS -
"The Essential Tool" for Large G Scale Model Trains Hobbyists
Accurately measures DCC, AC and DC Volts and Amps! DCC - 38.6 V, 18-20 A; DC - 38.6 V, 18-20 A; AC - 27.6 V, 18-20 A; PCB length 5.63"; Enclosure length 4", width 2", height 1.25" The amazing RRampMeter designed for Model Railroaders by DCC Specialties does what no other meter can do! Easy walk-around measurements of layout voltage drops, accurate booster output setup to optimum voltages for decoders and sound units.
$109.95
LGB Locomotive Maintenance/Repair Items Used by Old Dominion Railways
Hob-E-Lube Premium Medium Oil HL663 - Plastic Safe for LGB Engines & Cars
$10 - 1/2 oz
Massoth Motor Block Gear Grease
$12 - 1.8 oz tube
Zap Rail-Zip2 - Inhibits Brass Rail Joint Corrosion - Promotes Electrical Connectivity on indoor & outdoor track layouts
$7 - 1 oz bottle
​
​
​
​
​
​
​
​
​
​
​
​
​
Liquid Electrical Tape - Excellent for repairs to wire insulation or to insulate decoder's wire connections
$12 - 1 oz tube
​
​
​
​
EZE Epoxy Putty - Excellent for LGB Locomotives & Train Car Repairs and Modelling - Can be formed & shaped, dries very hard, then sanded and painted. Made in the UK
$10 - 25 gms
Common Parts & Components for LGB Trains
Epoxy Putty Use Example: LGB Smoke Unit installed inside an LGB Diesel Locomotive
LGB E126050 (62201) Short Shaft Motor - Fits Most LGB Locomotives
$59
LGB E129994 (62204) Long Shaft Motor - Fits LGB Mogul Locomotives
$59
Bachmann 92421 Metal Wheels for LGB train cars - Excellent low cost units for replacing plastic wheels that cause electrical connectivity issues on brass track and stain carpet
$19.95 - 4 Pack
LGB 67403 Ball Bearing Wheels with 4 Push Pin Wire Connectors
$38 - 2 pack
LGB E238704/E126044 Wheel/Axle/Gear Set for LGB Forney Locomotives without Factory Sound (20251 - 27253) With Traction Wheel (Traction Tire $2 Extra)
$47 Per Set
Wheel Sets with Gear for LGB F7A Diesel, F7B Diesels Without Gear, or LGB Schoema Diesels with Gear
$25
LGB 62007 Idler Gear for various LGB (2x18x or 2x19x ), U-engine (2x70x, 2x71x,2x271) Locomotives, e.g., Mogul; F7A; Alco; Zillertahl.
31/34 Tooth Gear
$9 2-Pack
LGB 62145 Idler Gears for LGB Uintah & Euro Mallet Locomotives; LGB Starter Sets

34/25 Tooth Gear
$21 2 Pack
LGB E130023 5 Volt Push Pin Clear Bulbs - Most LGB Locomotives' Headlights/Taillights use 5 Volt bulbs
$2 each; $8.50 5 Pack; $15 10 Pack
Massoth 8311210 19 Volt Push Pin Clear Bulbs
$2 each; $8.50 5 Pack; $15 10 Pack
LGB 65823 5 Volt for LGB Locomotives - Comes with Push Pin Connectors & Small Bottle Smoke Fluid
$28
LGB 65803 18 Volt for LGB Locomotives - Comes with Push Pin Connectors & Small Bottle Smoke Fluid
$28
LGB E130110 24 Volt Push Pin Clear Bulbs
$2 each; $8.50 5 Pack; $15 10 Pack
LGB/Marklin 02421 Smoke Fluid for LGB Locomotives - 250ml
$24
Push Pin Connectors for LGB Locomotive Motor Blocks & LGB Ball Bearing Wheels
$4 - 5 Pack
Massoth 8122202 LED Strips with cable - 100mm x15mm Warm-white on a white surface circuit with screw holes for installation inside LGB passengger car roofs. Use with Analog, DC or DCC 0 - 24 volts. Use LGB Ball Bearing Wheels to provide track power to these LEDs - Available on ths Page.
$22 2 Pack
LGB/Massoth Power Pickup Shoes for LGB Locomotives
$8 - 2 Pack; $15 - 4 Pack
LGB/Massoth 14mm or 16mm Carbon Brushes for LGB Locomotives
$5 - 2 Pack; $8 - 4 Pack; $14 - 8 Pack
Head/Tail Light Socket 5 Volt Bulb on 12 Inch Cable for LGB Locomotives & Tenders
$10
Wire Solder Lugs - Use for Track Power Connectors & Rail Joiners
$4 - 5 Pack
Massoth 8129530 Miniature LED Spotlight with Resistor - Easily Install for Locomotive Headlight, Cab Light & Rear Light - 5 - 22 Volts Excellent Brightness
$5 per LED
LGB 65012 Sound Unit Function Trigger (Reed Switch) for Locomotive Whistle & Bell Using Track Magnets - Attaches to LGB Tender's Truck
$20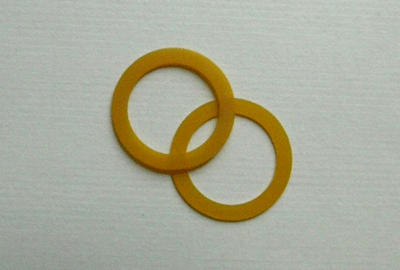 LGB E24410 Traction Tire for Small Locomotives
30.5mm
$2 each
Massoth/LGB E131368 Traction Tire for Mogul Locomotives - 46.5mm
$2 each; $8.50 5 Pack; $15 10 Pack
Massoth/LGB E126174 Traction Tire for Most LGB Locomotives - 37.5mm
$2 each; $8.50 5 Pack; $13 10 Pack
LGB E136259 Traction Tire for Mikado Locomotives
54mm
$2 each
LGB 13200 R3 22.5 Degree Crossing Brass Track
$50
LGB 12010 EPL Switch Drive
Convert LGB Manual Switches to Electric Using this Item or to Replace a Faulty Drive on Electric Switches
$29
LGB 13100 90 Degree Crossing Brass Track
$27
LGB 10153 Insulated BrassTrack - One Rail Insulated
$23
LGB 16150 Electric Left Brass Switch R3 22.5 Degree
$85
LGB 12260 Electric Double-Slip Brass Switch
$170
LGB 11000 Curved Brass Track R1 30 Degree - 12 Tracks = 4 Foot Circle
$6.50 Each; $78 Box of 12
LGB 10151 Reverse Loop Two Rail Insulated Brass Track Set for DC/Analog Use Only - 150mm
$57
LGB 16050 Electric Right Brass Switch R3 22.5 Degree
$85
LGB 12050 Electric Left Brass Switch R1 30 Degree
$60
LGB 16050 Electric Right Brass Switch R1 30 Degree
$60
LGB 10000 Straight Brass Track 300mm
$6 Each; $72 Box of 12
LGB 10600 Straight Brass Track 600mm
$13 Each; $145 Box of 12
LGB 15000 Curved Brass Track R2 30 Degree - 12 Tracks = 5 Foot Circle
$13 Each; $155 Box of 12
LGB 16000 Curved Brass Track R3 22.5 Degree - 16 Tracks =

8 Foot Circle
$13

Each; $150

Box of 12
LGB 10152 Two Rail Insulated Brass Track 150mm for DCC or DC Use
$24
LGB 10153 One Rail Insulated Brass Track 150mm for DCC or DC Use - Use for Controlling Track Signals & Stops - $24
LGB 19901 Track Siding Extension Set - Contains the "red" brass track sections and 1 right manual switch
$85
LGB 50040 Track Cleaning Block
$15
LGB 19902 Track Turn-out Extension Set - Contains the "green" brass track sections and 1 right & 1 left manual switches
$135
LGB 17050 Sound Trigger Magnet
$6
LGB 12060 Manual Switch Drive
$18 2 Pack
LGB 51960 American Semaphore with ELP Operating Drive - Like New Condition
$60
LGB 50500 Street Lamp with Base
$18
LGB 50610 Steel Truss Bridge
MSRP 219.95 Your Price $170
LGB 51406 Seated Figures
$25
LGB 10560 Electric Uncoupler 150mm Brass
$57
LGB E67267 Track Cleaning Replacement Wheels for LGB 20670/21670 Locomotives
$22